Kenya Demonstrations: What Does Kenya's Odinga Want?
Kenyan opposition leader Raila Odinga has a playbook he turns to when he loses an election. He calls supporters onto the streets until he's given a share of power.
By Antony Sguazzin
This week was no different but it's unclear whether President William Ruto will yield.
The March 20 protests led to one death and the closing of shops and schools. By piggybacking his demand for the 2022 election loss to Ruto to be overturned with discontent over the cost of living, he ensured a turnout.
His election demand is unlikely to be met. The 78-year-old has run for president five times and lost five times. A Supreme Court that's proved its independence before by nullifying an election result dismissed his petition.
Odinga's backers including former justice minister and 2022 running mate, Martha Karua, insist they won and want an audit to try and prove
it.
Now, Odinga says, protests will be held every Monday and Thursday until he gets his way.
There are precedents.
Violence after the disputed 2007 election forced then-President Mwai Kibaki to appoint Odinga as prime minister and in 2018 the threat of a
redux of that disruption saw President Uhuru Kenyatta extend to him an olive branch.
Odinga's actions "show that there isn't really respect for the election process," said Zaynab Mohamed, an analyst at Oxford Economics Africa.
His tactics risk unraveling the progress Kenya has made, she added.
In 2018, the Supreme Court overturned Kenyatta's victory and ordered a rerun and last year's vote was less divided along ethnic lines than previously. That's a far cry from the violence in the 2007 election that saw more than 1,500 killed and 300,000 made homeless and two decades of
repression under Daniel Arap Moi, whose cabinet Odinga once joined.
There's little appetite to return to those days.
Bloomberg
Kenya's President Ruto Faces Baptism Of Fire As Opposition Dares to Unravel His Contested Win
Kenya, Jan 28- It's been four months since Kenya's supreme court unanimously upheld Dr. William Ruto's Presidential victory. But Raila Odinga, his closest opponent in the recently completed sweepstakes and a perennial contender for the top seat is seeking to upend the order.
Late this January he brazenly told his political base here in Nairobi that his political party – the Azimio la Umoja One Kenya Coalition did not recognize Ruto as President of Africa's top exporter of cut flowers.
"We as Azimio reject the 2022 election results. We cannot and will not recognize the Kenya Kwanza regime (Ruto's Party) for we consider the Kenya Kwanza government illegitimate. We don't recognize William Ruto as the President of Kenya and we do not recognize officials appointed by Ruto into office, including his cabinet secretaries," he said.
Meanwhile, the President has been faulted for failing to act presidential.
As he has intermittently stoked a farcical thesis that begs the question of whether the electioneering season is still on the cards including the critical concern regarding his suitability of being the inherent healer No: 1 of a balkanized terrain.
An exemplar is his public announcement made mid-this January claiming the existence of a plot orchestrated by powerful individuals drawn from the previous government under Uhuru Kenyatta, who sought to abduct and kill the now-retired Independent Electoral and Boundaries Commission (IEBC) Chairperson Wafula Chebukati, in an effort to block his victory during the 2022 Presidential elections.
Never mind, when Ruto occasionally makes these sorts of actionable statements while on the bully pulpit, he has shown himself to be averse to providing evidence, a phenomenon that likens him, almost, to a modern-day Louis XIV whose leadership tenet answered to L' Etat c'est  moi.
 Case in point: Ruto said there was a plot approved by what he termed as the 'highest office', whose goal was to paralyze the commission and to get friendly commissioners to announce his opponent Odinga as the winner.
"We know that there was a direct attempt to abduct Chebukati and murder him so that the commission would be paralyzed," famously said Ruto.
He also claimed Chebukati and two other commissioners, Abdi Guliye and Moya Bolu, were offered huge sums of money to alter the Presidential results and branded the three commissioners as heroes for rejecting the offer.
Conspicuously no evidence from the President or his handlers has shown up to date.
It turns out meanwhile Odinga's latest nonconformist stance, in the big measure is a product of an anonymous whistleblower drawn from the IEBC who reportedly provided evidence to Jeremiah Kioni, a top drawer in the Azimio party of fraud and manipulation happening in the 2022 elections.
According to the whistleblower, the IEBC, under Chebukati and Commissioners Guliye and Molu including the CEO of the electoral body Marjan Hussein, provided fabricated information to the world.
Veritably, if the anonymous whistleblower is to be believed Odinga handily won the elections.
 "We've seen that 59% of the constituencies cannot be verified with absolute certainty. What can be verified is, Raila Odinga won the elections with 8,170,355 votes representing 57.53% of the votes cast. Ruto got 5,915,973 votes, representing 41.66%," Kioni said.
The whistleblower claims to be a current employee of IEBC. They say that they have chosen to remain anonymous out of fear of retaliation. They allege that illegal entities were set up at the IEBC data transmission center's "back office" to convert Form 34B from its original JPEG format to PDF, in violation of electoral procedures.
Form 34B collates the presidential election results
This startling information emboldens Odinga's base, which arguably believes Chebukati and Commissioners Guliye and Molu including the CEO of the electoral body Marjan Hussein denied their man victory.
It has not been lost to adherents of Odinga four IEBC commissioners disowned the results of the August 9 presidential polls.
Among other things, the quadruple alleged the average percentages of the results scored by the four presidential candidates exceeded the 100 percent mark casting doubt on the accuracy of the total number of votes tallied.
According to IEBC, Ruto rallied 7,176,141 votes, which accounted for 50.49 percent of the total votes cast while Odinga got 6,942,930 votes or 48 percent of the votes.
While Roots Party candidate Prof. George Wajackoyah and his Agano Party counterpart David Mwaure amassed 61,969 (0.44 percent) and 31,987 (0.23 percent) respectively.
"This summation gives us a total of 100.01 pc. The 0.01 percent translates to approximately 142,000 votes which will make a significant difference in the final results we, therefore, decline to take ownership because the aggregation resulted in a total exceeding the percentage of 100," said then Vice Chair Juliana Cherera who was forced to resign together with Commissioner Justus Nyang'aya after being suspended from office by President Ruto. Commissioner Francis Wanderi would later resign due to what he referred to as unwarranted public lynching, which he said, was based on falsified information
Kenya's Electoral Commission's vice chairperson Juliana Cherera and Commissioner Justus Nyang'aya have resigned, days Their resignations come after a Parliamentary investigation recommended their removal from office, over alleged gross violations of the constitution during the August presidential elections.
The two are among the four IEBC commissioners who had refused to endorse Ruto's win. The other two, Irene Masit and Francis Wanderi, have not indicated if they will also resign.
Commissioner Irene Masit, who is the only one yet to resign, opted to face a tribunal formed to investigate the four dissenting IEBC commissioners dubbed 'Cherera 4'hoping to fend off allegations of having violated the Constitution and gross misconduct.
Masit is also the only IEBC commissioner yet to leave office after Chebukati, Molu, and Guliye's terms ended.
According to Odinga, the election process was marred by irregularities and alleged electoral fraud, saying the possibility of death and bloodshed from post-election violence and fear of International Criminal Court (ICC) charges compelled him to accept Ruto's disputed win.
 "What we have today are leaders imposed on the people of Kenya by a very corrupt electoral commission and this is totally unacceptable and that's why we are saying no," says Odinga who urges Kenyans to be prepared to stand up and defend their rights "because if you don't do that, these people will continue to rule you without your consent permanently."
He has cautioned foreign powers whom he has not named from interfering in Kenyan affairs, saying  Kenyans have the capacity to solve their own issues.
"Kenyans will solve their issues themselves and I want to say this without fear of contradiction, Kenyans must come up with the leadership they want. Kenyans must elect leaders they want," Odinga says.
While the politicking is happening life for the average Kenyan is becoming almost unbearable
With electricity prices are expected to increase beginning this April by up to 78 percent if the energy sector regulator approves new tariffs from Kenya Power and Lighting Company (KPLC) – which owns and operates most of the electricity transmission and distribution system in the country  –  that seek to withdraw the monthly subsidy that cushions poor households.
The listed utility firm says it is engaging the Energy and Petroleum Regulatory Authority (EPRA) — the electricity sector regulator — for the first upward review of power prices since 2018, putting further pressure on consumers.
Besides increasing the base tariff, Kenya Power has reduced the threshold for accessing the monthly power subsidy equivalent to a 24.1 percent discount from 100 kilowatt hours to the proposed 30 units.
This will deny millions of households the subsidy they have enjoyed since 2018 as Kenya Power seeks additional resources to upgrade its transmission network and boost profits, which ultimately allow the utility to restart paying dividends.
 Also, President Ruto's administration is targeting borrowing Sh3.6 trillion in his first five-year term, upending his plan to go slow on debt.
The Sh3.6 trillion is equivalent to 89 percent of the record Sh4.1 trillion that his predecessor, Uhuru Kenyatta, borrowed in the five years to June 2022.
At Sh3.6 trillion, the borrowing is more than the Sh2.7 trillion that Mr. Kenyatta chalked up in his first term and Sh1 trillion that the late President Mwai Kibaki borrowed in his last five-year term.
Analysts had expected that the Ruto administration would cut fresh borrowing by a larger margin after committing to ramping up its tax collections over the next five years.
But the rise in spending under the so-called Bottom-Up economic plan, which proposes to channel resources to sectors that can have a mass impact in creating jobs and wealth, has prevented deeper cuts on the country's borrowing.
Dr. Ruto's budget will top Sh5.1 trillion in the fiscal year ending June 2027 from Mr. Kenyatta's last annual expenditure of Sh3.0 trillion. The International Monetary Fund (IMF) projects that the economies of Angola and Ethiopia are scheduled to grow stronger than Kenya's.
This projection means that Kenya is set to be replaced as the third-largest economy in sub-Saharan Africa by Angola and Faster GDP growth in Angola and Ethiopia will see Kenya relegated to number five in sub-Saharan Africa's economic rankings.
Rwanda Fed False Intelligence to U.S. and Interpol As It Pursued Political Dissidents Abroad
Rwandan dissidents have claimed that President Paul Kagame has used dirty tactics to go after his critics abroad. Now, a classified FBI report obtained by OCCRP confirms that Rwanda has been conducting "poison pen" operations on American soil for years.
by Carlos Mureithi (OCCRP) and Kira Zalan (OCCRP)
Key Findings
Rwandan intelligence fed false information to U.S. agencies about Rwandan-born U.S. residents who were considered enemies of the country's President Paul Kagame, with the aim of having them deported.
The FBI investigated Rwandan claims that people affiliated with the U.S. chapter of the opposition Rwanda National Congress had supported anti-Rwanda militants in Central Africa but found the allegations to be baseless.
An internal Interpol document shows that the international police body revoked an arrest warrant for Eugene Gasana, a former Kagame loyalist now critical of the Rwandan regime after it found Rwanda's claims against him to be politically motivated.
When Paul Rusesabagina left his Texas home in August 2020, he believed he was traveling to the East African nation of Burundi for a speaking tour. But on a layover in Dubai, the famed human rights activist was diverted onto a private plane, flown to his native Rwanda, and detained on dubious terrorism charges.
In an interview with the Guardian, Rwandan President Paul Kagame described the operation that lured his 68-year-old critic out of the U.S. as "flawless."
The elaborate kidnapping plot that entrapped Rusesabagina sparked international outrage; the world knew him as the subject of the Hollywood film "Hotel Rwanda," which feted him for saving the lives of more than 1,000 people who sought refuge in the hotel he managed during the country's 1994 genocide. But it was only the latest in a decades-long crusade of harassment, threats, assassination attempts, and smear campaigns orchestrated by the Rwandan regime, according to a lawsuit filed by the Rusesabagina family in a Washington, D.C., court.
For years, Rwandan dissidents have claimed that Kagame has used unscrupulous tactics to go after his foreign-based critics — including filing false charges and abusing the Interpol red notice arrest warrant system, a policy that Freedom House calls "transnational repression." Prominent dissidents have even been assassinated in South Africa, Uganda, Kenya, and Mozambique.
Now, a classified FBI report obtained by OCCRP confirms that U.S. law enforcement has long known of Rwandan intelligence operations against civilians on its soil, including the targeting of Rusesabagina, a U.S. permanent resident, as early as 2011. The report also reveals the U.S. government knew as early as 2015 that agents of the Rwandan government had repeatedly attempted to mislead and co-opt U.S. law enforcement to target Kagame's critics.
Despite this, the U.S. government is Rwanda's largest bilateral donor, with $147 million handed over to Kigali in fiscal year 2021.
"Poison Pen Information"
Written in the build-up to Kagame's re-election to a third seven-year term, the 2015 FBI report warned top American diplomats that Rwanda was using its intelligence services to spread disinformation in the U.S. about Rwandan asylum seekers and opposition members. Its tactics included "providing poison pen [intentionally false or misleading] information to U.S. law enforcement agencies concerning alleged criminal violations through the use of double agents, as well as attempting to manipulate U.S. government immigration law and the Interpol Red Notice System," the FBI concluded.
One recipient of the FBI's report was Linda Thomas-Greenfield, the current U.S. ambassador to the United Nations, who was an assistant secretary at the State Department's Bureau of African Affairs at the time. Her office did not respond to questions sent by email.
"Virtually any country that has an oppressive enough government to create dissidents who would flee to the West are going to engage in operations against those dissidents," retired FBI agent and counterintelligence expert Todd K. Hulsey told OCCRP, citing Russia, China, and Cuba as examples.
But "it is not normal for a partner nation, and certainly not an ally, to run a poison pen operation on American soil," he said.
The FBI report said that a number of dissidents were targeted, including Rusesabagina.
In 2011, nine years before he was kidnapped, the Rwandan government made a formal request to U.S. authorities to investigate Rusesabagina for his alleged support of militants in Central Africa.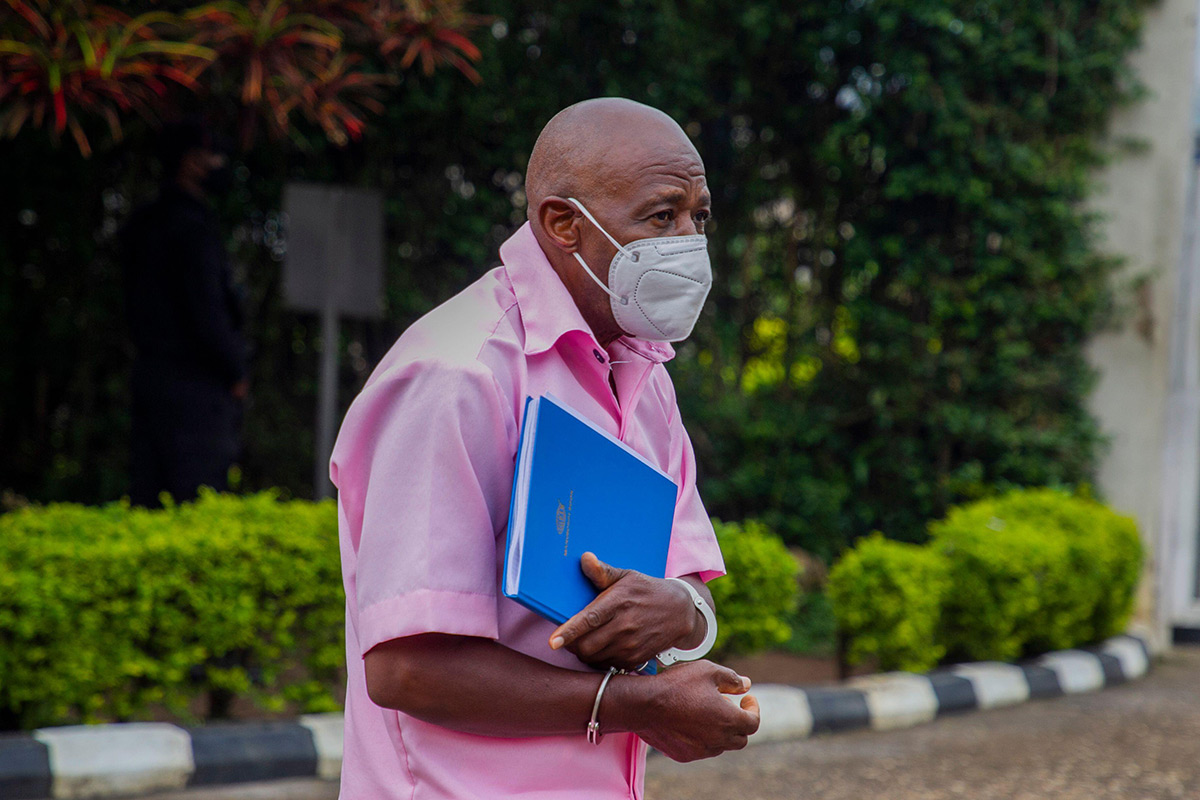 Credit: Xinhua/Alamy Stock Photo- A handcuffed Rusesabagina arrives at a court in Kigali, Rwanda, on February 17, 2021.
This was a common allegation against the regime's detractors. Between 2012 and 2014 the FBI investigated people affiliated with the U.S.-based Rwanda National Congress (RNC), an anti-Kagame opposition group after the Rwandan government alleged that it was supporting Central African terrorists but found no evidence of criminal activity.
However, the FBI report said its investigations were "consistently hindered" by Rwandan intelligence services "operating double agents in the United States who were providing misinformation to investigating agents."
Rwandan intelligence services sought to use an intermediary to plant "derogatory information" that would discredit RNC members, with the goal of getting them deported, the FBI report said. The intermediary confessed to working on some 40 individual cases. The person also provided false information alleging that RNC officials were plotting to kill Kagame in 2011 while he was on a visit to the U.S..
The FBI and U.S. State Department declined to comment. A Rwandan government spokesperson did not respond to questions.
"Open to Abuse"
The Rwandan government also manipulated Interpol — an international policing body based in France — and its red notice system to get foreign law enforcement agencies to go after its targets.
Léopold Munyakazi, a former trade union official in Rwanda, moved to the U.S. in 2004 and later taught French at a private liberal arts college in Maryland while waiting for political asylum.
The Rwandan government asked Interpol to issue red notices for him in 2006 and 2008 after he criticized the government, and U.S.-based Rwandan diplomats and intelligence officials monitored Munyakazi's activities between 2011 and 2013, according to the FBI report. But Rwanda's allegations against Munyakazi were inconsistent, first claiming that the dissident was a member of the RNC, then saying he was wanted on charges related to the genocide.
U.S. immigration authorities investigated Munyakazi and deported him in 2016 for suspected human rights violations, despite the fact that the 2015 FBI report said the investigation was "almost certainly" compromised by a Rwandan intelligence agent, and cast doubt on the allegations. In Rwanda, he faced trial on genocide charges and was sentenced to life in prison — only to be cleared of atrocities a year later and re-sentenced to nine years for "downplaying the genocide," according to multiple media reports.
U.S. Immigration and Customs Enforcement did not respond to questions.
Even senior officials can be targeted: Eugène Richard Gasana was Rwanda's permanent representative to the United Nations until he disagreed with changes Kagame made to Rwanda's constitution in 2015 that cleared his way for a third term in power. Gasana knew he couldn't return to his homeland and settled in New York, his lawyer told OCCRP.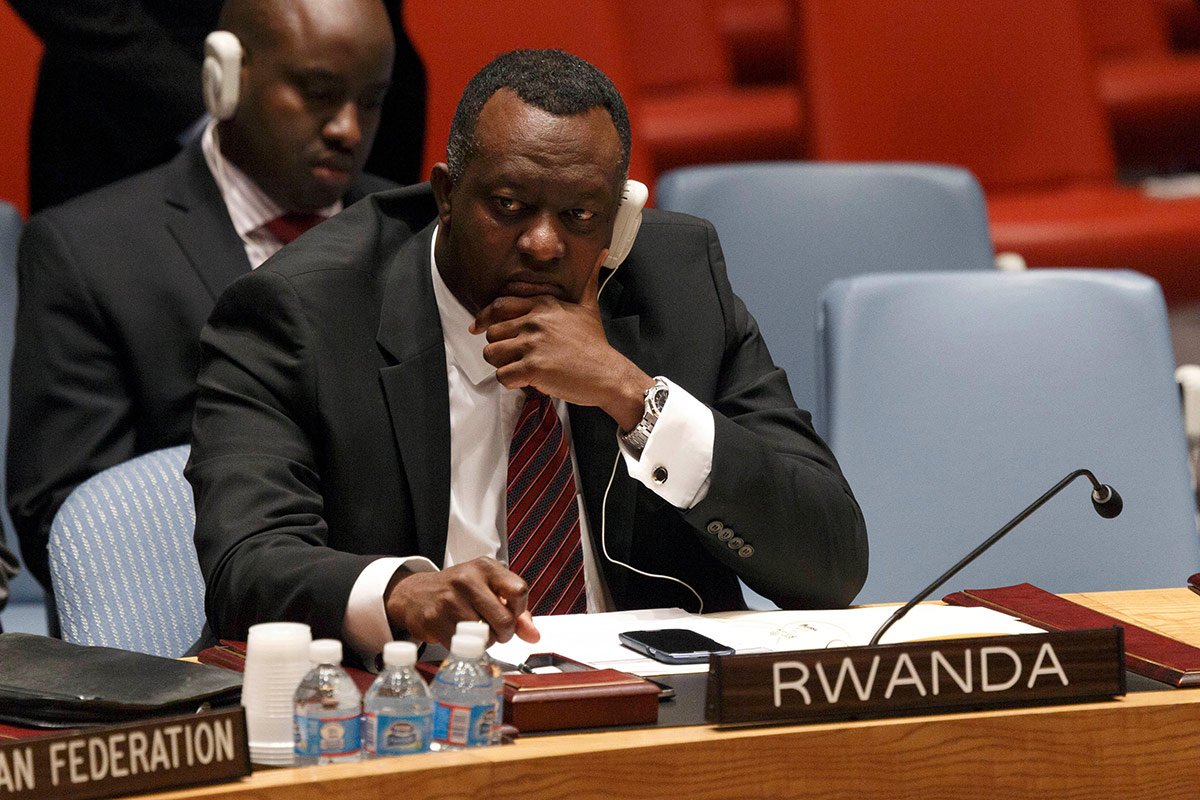 Credit: Trevor Collens/Alamy Stock Photo – Eugène Richard Gasana during a UN Security Council meeting at UN Headquarters in New York, 2013.
Soon he was being accused of supporting rebel groups. His lawyer told a New York court that the U.S. investigated these allegations and did not find them credible, while an internal Interpol document about Gasana's case indicated the policing body found the charges to be politically motivated.
Then, he was accused of rape by a Rwandan woman who had interned in his office at the U.N. several years earlier. New York law enforcement investigated the criminal complaint but did not find a basis on which to bring criminal charges, according to a subsequent Interpol investigation. The accuser is now suing Gasana in New York over the same allegations.
In 2020, Interpol issued a red notice when the Rwandan government recycled the same charges. Gasana challenged the notice, arguing that the charges were political. The internal Interpol review obtained by OCCRP also concluded that there was "a predominant political dimension" to Rwanda's case against Gasana and that Interpol "may be perceived as facilitating politically motivated activities."
"They manipulated Interpol. They snuck the arrest warrant into the system but we were able to get it deleted," Gasana's lawyer, Charles Kambanda, told OCCRP. He's now representing Gasana in the civil litigation in New York, and speculates that after the Rwandan government failed in its efforts to go after Gasana through law enforcement, its intention now "is probably to bankrupt him."
"Litigation in New York is damn expensive. We've been on the civil case for three years now. They always find some reason to delay the case since they know they don't have a substantive case against him, so they use procedural tricks to keep the case going," said Kambanda. "They've hired a lot of lawyers — I'm fighting five law firms I think. One of them, a lawyer, is representing Kagame in the case against Rusesabagina's family."
Will Hayes, a lawyer at U.K. law firm Kingsley Napley who represents clients fighting extradition requests and challenging Interpol red notices, told OCCRP the current system is "open to abuse."
"The effects of red notices are so onerous and significant compared to the ease with which they can be issued," said Hayes. "This highlights the disparity between the power of the authorities that request them and the subject who then has to deal with the consequences."
The minimum requirements for issuing a red notice are very low, according to Hayes. Although in theory the requesting country should be able to provide information demonstrating the accused's participation in an offense, in reality, "as long as there is a valid arrest warrant and the person is sufficiently identified, it'll go through," he said.
Often people learn there is a red notice against them only when they attempt to travel, or when extradition proceedings against them begin, Hayes said. To challenge it, they must petition an Interpol commission, which meets four times a year and can take nine months to issue decisions.
In 2016, Enoch Ruhigira, a Rwandan living in New Zealand who was traveling to the U.K., was detained in Germany on the basis of a red notice, even though it had already been deleted at the time. Ruhigira, the head of presidential staff under the previous Rwandan President Juvénal Habyarimana, had been accused by Kagame of genocide in 2004, but presented convincing evidence to the contrary and got the red notice against him rescinded in 2015. Still, he spent eight months in custody while the confusion was sorted out.
Interpol declined to comment.
"You Can Run But You Cannot Hide"
Kagame's Rwandan Patriotic Front took power in the aftermath of the 1994 genocide, which saw nearly 1 million members of the Tutsi ethnic group and their sympathizers murdered. Lauded for bringing peace and fast economic growth, his government has been embraced by Western allies for nearly three decades. But at the same time, it has targeted, criminalized and crushed his detractors at home and abroad. Human rights organizations have documented numerous killings, disappearances, threats, attacks and forced returns under Kagame's rule.
The RNC, an opposition group established in the U.S. in 2010 by exiled former senior government officials, has drawn particular ire. RNC co-founder Patrick Karegeya, a former head of Rwandan intelligence, was murdered in a hotel room in South Africa in 2014. Co-founder Faustine Kayumba Nyamwasa, an ex-Rwandan army chief, has survived three assassination attempts.
"I am a high-profile target, but I'm safer than someone in Kigali [Rwanda's capital] with similar thinking like me, Nyamwasa told OCCRP. "They are more exposed to a lot of danger."
"We have our own way of getting to know what is intended," Nyamwasa said, explaining how he has managed to stay alive. "But you cannot control everything. The situation is threatening but you get used to it. You learn to live with it."
The Rwandan regime gets away with abductions, disappearances, and assassinations at home and in other African countries, where perpetrators can avoid justice by paying bribes, Nyamwasa explained. In Europe and in the U.S., where there are stronger institutions and rule of law, Rwanda uses disinformation instead.
The disinformation and intelligence operations are run out of Rwanda's embassies all over the world, according to former high-ranking security officials now living in exile.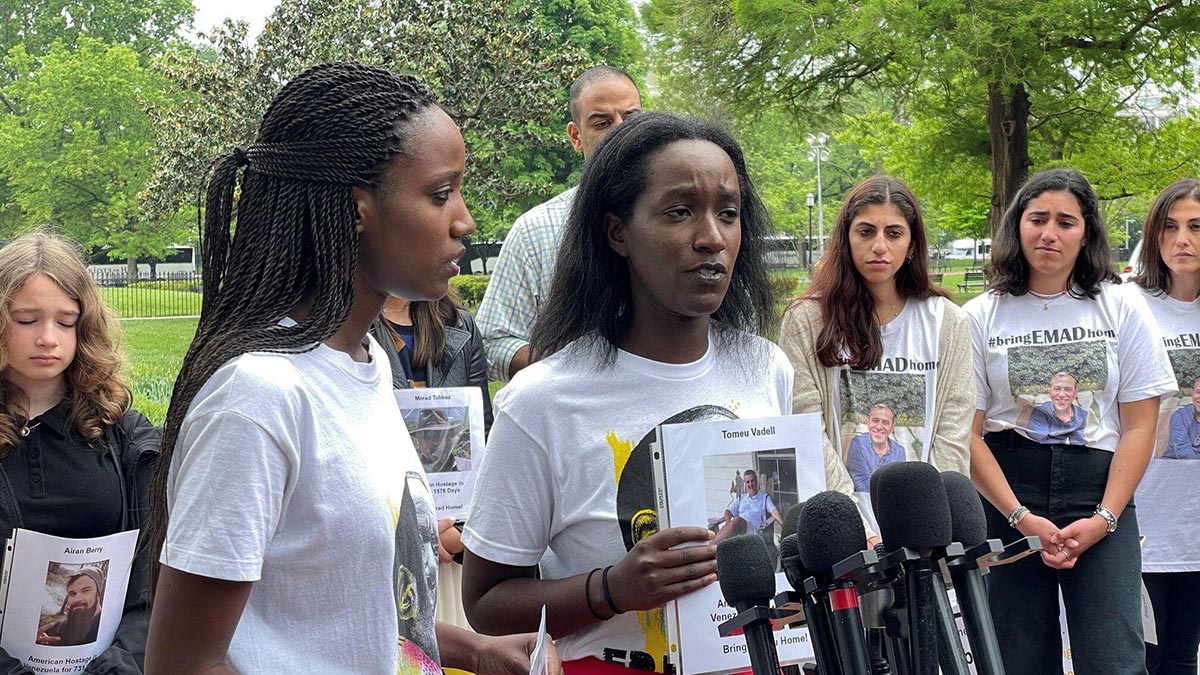 Credit: REUTERS/Alamy Stock Photo: Rusesabagina's daughters speak while gathering with families of other detainees outside the White House in Washington, D.C., U.S. May 4, 2022.
Robert Higiro, a former major in the Rwandan army, says sometimes the operations are carried out by people posing as refugees who are actually working for the government. They "push aggressively" by telling the U.S. State Department, FBI, CIA, or the U.K.'s Foreign Office that certain targets are criminals and shouldn't get asylum, according to Higiro.
Several exiles told OCCRP about warnings and briefings they had received from police in the U.S., U.K., Belgium, and the Netherlands, suggesting that despite warm diplomatic relations, these governments are aware of Kigali's tactics.
British journalist Michela Wrong, author of "Do Not Disturb," a book about the Kagame regime and the killing of Karegeya, told OCCRP that Rwanda's extradition efforts are designed to dissuade any political challengers to Kagame. Foreign law enforcement agencies don't always realize what they're dealing with, she said.
"The message is, 'You can run, but you cannot hide. I will get you in the end.' That's what all these operations boil down to," Wrong said. "This is a personalized message directed at Kagame's own entourage, which he believes would be the source of any serious challenge to his regime."
Reconsidering U.S. Support?
Despite Rwanda's poor track record on human rights, Western allies have maintained their support for decades.
In addition to training the Rwandan military, the U.S. proposed to spend $145 million in assistance to Kigali in 2023. The U.K. signed a bilateral agreement to send asylum seekers from the U.K. to Rwanda, despite being warned that Rwanda tortures and kills political opponents.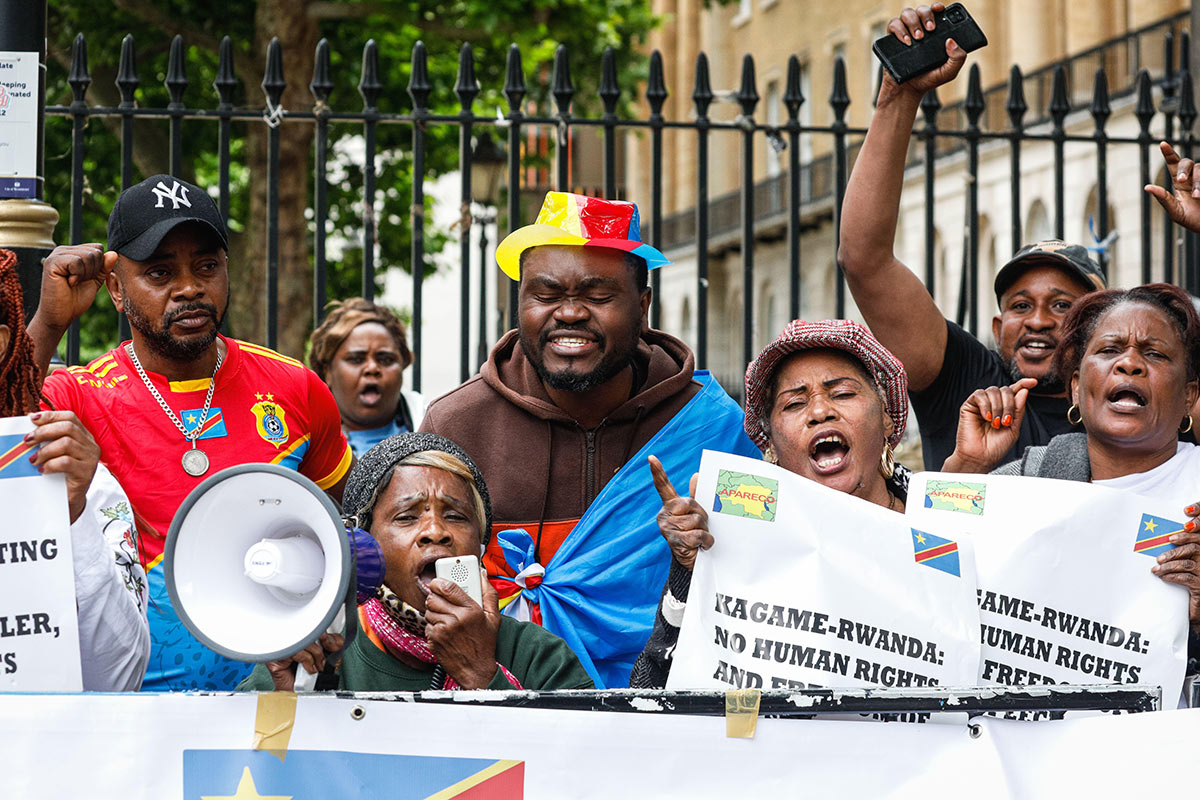 One U.S. lawmaker is pressuring the Biden administration to finally reconsider supporting Kigali, especially after Rusesabagina's kidnapping in 2020.
"Not only would Rwanda be flouting U.S. laws by targeting dissidents inside the United States, Rwanda appears to be the only foreign government in the world that is both wrongfully detaining an American resident and seen by the United States as a partner and ally," wrote Senator Robert Menendez, the chairman of the Committee on Foreign Relations, to Secretary of State Antony Blinken in July.
The lawmaker said there was a "need for a more effective U.S. policy" and that he would place a hold on all security assistance to Rwanda until the State Department undertakes a comprehensive review.
Uganda's President Museveni's Reign of Terror is Aided By US War on Terror in East Africa
A Toward Freedom Special Report
By Charles Wachira
Three months after Yoweri Museveni was re-elected president of Uganda for a sixth term, citizens of this strategic East African state are trying to come to terms with the dismal likelihood that he will never be unseated in free and fair elections.  Ever since 1986, when he came to power in the country's first plural elections, this African strongman has enjoyed the continued and tacit support of successive US administrations. The fact that  Uganda discovered oil in 2006 has also enhanced its value as a close ally to the West in a turbulent neighborhood. Today, Uganda is described as having the fourth largest onshore oil reserves in sub-Sahara Africa.
Museveni's victory on January 14th was not, however, a foregone conclusion; his international backers had to take notice that a significant threat came from the nation's large youthful population.  A 39-year- old pop musician-turned-populist politician named Bobby Wine became a close contender for the country's top seat, momentarily rattling the confidence of a junta safely ensconced in Kampala. Wine had "street credentials" and appealed to the country's large youth population, to the point that he was considered close to being a shoe-in.
According to the World Bank, more than 75% of Uganda's population is below the age of 30, with the country having one of the highest youth unemployment rates– at 13.3%——in Sub-Saharan Africa. This means that 75 % of Uganda's population has known no other leader save for Museveni, who has ruled Africa's largest coffee exporter –and now an oil producer– for an uninterrupted 35 years and counting.
The relatively youthful Wine was widely thought to be drawing support from this demographic.
Back in 2018, the Financial Times was already warning of his appeal: "Across the continent, Mr. Wine's spreading fame has put leaders on notice that they face a youthful rebellion." Africa has the youngest population in the world, with a median age of 19.5. Uganda's is just 16. But the continent has the world's oldest leaders, with an average age of 62. Incumbents are clinging on, well past their sell-by date."
During the run-up to the elections, Wine (whose real name is Robert Kyagulanyi Ssentamu) resorted to wearing a helmet and a bulletproof vest to campaign in what he once described as a "war zone." In November, 2020, he was arrested, beaten and barred from campaigning by the state's security apparatus. When protests broke out after Wine's arrest, security personnel resorted to using live bullets, killing more than 50 people.
Once hailed as Uganda's savior, Museveni's political stock leading up to the recent election was in free-fall. A poll conducted by Research World International Ltd, , a Ugandan social research agency, showed his popularity at 32 per cent, his lowest ever in his 35-year reign.
According to the Uganda Electoral Commission (UEC), the body that runs the electoral process in the country, Museveni won 58.6% of the vote while Wine managed 34.8%. Yet the turnout was only 52% of registered voters, the lowest since Museveni took office in 1986.
Even the top US diplomat for Africa, Tibor Nagy, felt compelled to tweet on January 16th that "Uganda's electoral process has been fundamentally flawed."
Wine contested the outcome, claiming "vote rigging" and seeking recourse in the Supreme Court before withdrawing the challenge on February 22, charging that Uganda's courts were filled with "yes-men" appointed by Museveni.
Museveni's Value to the West
When Museveni rode to power in 1986, he was hailed as a liberator and peacemaker following years of tyranny under Idi Amin (1971-1979) and Milton Obote  (1966 to 1971; 1980 to 1985.) His regime has been credited with reforming the East African country's economy, which, after the ravages of Idi Amin and Milton Obote, was on the verge of collapse when he took over, with inflation at more than 200%.
The World Bank continued to give him high points on managing the economy under its tutelage.
"Uganda's economic performance since 1987 has been impressive," the World Bank noted in a report titled Reducing Poverty Sustaining Growth Scaling Up Poverty. "The country has sustained economic growth averaging 6 percent and maintained an inflation rate in single digits. In just eight years (between 1992 and 2000), the proportion of people living in absolute poverty declined from 56 percent to 35 percent,"
However, Museveni's rule has been marked by more years of harsh repression, drawing comparisons to the tyrannical, 72-year-long reign of Louis XIV in France during the Ancien Régime and the ruler's famous diktat, "L'état, c'est moi" or "I am the state."
Some Washington insiders are now calling for the re-evaluation of US support for the dictator. Jeffrey Smith, director of the advocacy nonprofit Vanguard Africa, told World Politics Review this January that, "There needs to be a review of U.S. policy towards Uganda, including a comprehensive review of the millions of dollars we provide on an annual basis to their security forces and military." An appeal has gone out to previous donors to stop backing Museveni. "This oppressive regime is bankrolled by international donors," notes Rita Abrahamsen and Gerald Bareebe of the University of Ottawa, Graduate School of Public and International Affairs in an article published this February titled: The Aid Debate: Time for Donors to Drop President Museveni. 
"Museveni has succeeded in establishing Uganda as a key ally of the US and a pivotal state in the fight against terrorism," the authors add.  "The country has been a top troop contributor to the African Union's peacekeeping mission in Somalia, and its soldiers have also been deployed to other trouble spots like South Sudan and the Central African Republic."
In return, "Uganda has been lavished with development and military assistance. As the main donor, the United States supports Uganda with nearly $1 billion a year, while another billion flows from other countries and institutions like the World Bank."
Besides the US and the World Bank, the authors indicate that Canada has also been bankrolling the Museveni Administration.
Yet these critics appear to be in the minority. His usefulness as a regional policeman predominates.
According to Foreign Policy, an influential American news publication that focuses on global affairs, the US has trained more troops from Uganda than from any other country in sub-Saharan Africa except Burundi.
The U.S. State Department's website also emphasizes Uganda's value as "a reliable partner for the United States in promoting stability in the Horn of Africa and East and Central Africa and in combatting terror, particularly through its contribution to the African Union Mission in Somalia."
Uganda, the State Department continues, provides Somalia with "assistance of around $970 million per year—equivalent to nearly 3 percent of Uganda's GDP. Since 2014, Washington has also donated roughly $270 million in military equipment to Uganda, including multiple armored trucks, under the African Peacekeeping Rapid Response Partnership, which supports nations involved in peacekeeping efforts."
What's Really at Stake? A Look at The Oil Factor
In 2006, Uganda discovered oil in the Albertine Rift Basin located in the western part of the country near its border with the Democratic Republic of Congo (DRC) This discovery put Uganda on the global energy map, turning it into East Africa's biggest crude oil producer.
In 2009 Sally Kornfeld a senior analyst in the US Office of Fossil Energy, said Uganda's oil reserves could be as much as that of the Gulf countries. "You are blessed with amazing reservoirs. Your reservoirs are incredible. I am amazed by what I have seen; you might rival Saudi Arabia," she told a visiting delegation from Uganda in Washington DC.
By 2014, the Ugandan Government estimated that there were 6.5 billion barrels of oil in place, but recoverable oil is estimated to be between 1.8 and 2.2 billion barrels.
"The oil era is dawning in Uganda," says Ben Shepherd, a leading specialist on African politics and conflict at the London-based Royal Institute of International Affairs. An independent policy institute, the Royal Institute issued his report titled   Oil in Uganda: International Lessons for Success.
Uganda, he noted, "has the potential to accelerate development and drive the country's transformation into a regional – and even global – economic player." But oil also had its risks, he added — that of "eroding the relationship between people and government, of economic distortion, of increased corruption, and of internal tensions."
The country's first oil production is expected to happen in 2023, hitting its peak at around 200,000 barrels per day by 2028, making it the fourth largest producer  in sub-Saharan Africa.
Ed Hobey-Hamsher, a senior Africa analyst at the global risk consultancy Verisk Maplecroft, argues that oil and gas potential in the region is vast.   "I don't think anyone wants to be left behind," he told the African Business monthly magazine, on 13 November, 2020 referring to competing foreign oil companies.
"It's not an easy place to do business but that certainly doesn't mean that international oil companies (IOCs) can afford to overlook it."
To kickstart production, Uganda has partnered with Big Oil, in this case, the French giant Total and the Chinese National Offshore Oil Corporation.
Construction of a 1,445km (898 miles) planned crude oil pipeline, known as the East African Crude Oil Pipeline (EACOP) or, alternatively, the Hoima-Tanga Port Oil Pipeline (describing its point of origin and its terminal point) is expected to run from the Albertine region in Uganda, which is landlocked, to the Tanzanian seaport of Tanga.
It will cost $ 3.55 billion and is planned to have the capacity of 216,000 barrels per day.
Thirty percent of the project costs are expected to be provided by the equity investors, which include the Uganda National Oil Company (UNOC), the Tanzania Petroleum Development Corporation (TPDC), CNOOC Limited (the largest producer of offshore crude oil and natural gas in China and one of the largest independent oil and gas exploration and production companies in the world) and Total, the world's fourth-ranked international oil and gas company.
The US will provide loans worth $2.5 billion.
Pipeline Politics
In March 2021, following protests against the pipeline by 263 environmental and human rights organizations, Barclays and Credit Suisse became the first major international commercial banks to confirm that they would not participate in the pipeline project.
"Barclays does not intend to participate in the financing of the East African Crude Oil Pipeline project," the UK-based bank said in its response to the protests. Credit Suisse also confirmed it "is not considering participating in the EACOP project." The "Stop EACOP" coalition also commented that other banks such as United Overseas Bank (UOB) had also made statements indicating that they may not be involved in the project financing.
The New Yorker, an American weekly magazine, describes the East African Crude Oil Pipeline as "one of the planet's ugliest infrastructure projects," for it threatens to "endanger as many animals as possible, take out wide swaths of farmland, almost all of it tilled by peasant farmers and encroach on forests."
However, work on the pipeline is proceeding. On April 10, Uganda, Tanzania. Total and CNOOC signed agreements which will allow the "start of investment in the construction of infrastructure that will produce and transport the crude oil."
According to Mr. Murithi Mutiga, Project Director for the Horn of Africa at the International Crises Group (ICG)  "Despite being landlocked, Uganda is located in a highly strategic location of the continent. It straddles across different regions," he says.
"It's partly in Central Africa and wholly within the East African region. It's a member of the Intergovernmental Authority on Development (IGAD), an eight-country trade bloc in Africa that includes governments from the Horn of Africa, Nile Valley and the African Great Lakes."
Uganda, Mutiga adds, "is also a member of the East Africa community (EAC) that comprises countries of Djibouti, Eritrea, Ethiopia, Kenya, Somalia, South Sudan and Sudan. To that extent, Uganda's location makes it a major actor across the region."
The Militarization of Uganda…and Its Neighbors
What makes Uganda's location "highly strategic" has much to do with ongoing oil exploration throughout much of East Africa, a region which partly borders the Red Sea that separates East Africa from oil-rich Saudi Arabia. The militarization of these regions – under the pretext of fighting terrorism – often occurs in order to safeguard foreign oil concessions and pipeline routes, as explained by Charlotte Dennett in The Crash of Flight 3804: A Lost Spy, A Daughter's Quest, and the Deadly Politics of the Great Game for Oil . As she points out, where there are terrorists, one will often find oil. Which raises the question: who is backing the terrorists in any given case? More often than not, she points out, the US and its Gulf allies have been found to be clandestinely bankrolling the terrorists.
Uganda has partnered with the US to "quell terrorism," deploying more than 6,200 troops to the 14-year-old African Union Mission in Somalia (AMISOM) that is battling the al Qaeda-linked group al-Shabaab, an Islamist insurgent group based in Somalia.
Dating back to the administration of Bill Clinton in the 1990s, the United States developed the Front Line States Initiative in which it formed a military partnership with Uganda which saw the latter being used as a conduit for military aid to rebels in neighboring southern Sudan (now South Sudan) battling the brutal Islamist government in Khartoum, Sudan. Seldom mentioned in the US press, however, is US competition with the Chinese in developing South Sudan's oil.
At the time, Museveni established himself as a bulwark against militant Islam, a strategy that paid additional dividends when the US said it was concerned about the rise of al Qaeda in eastern Africa after the 1998 embassy bombings in Kenya and Tanzania.
Generous U.S. assistance has been additionally forthcoming following the 9/11 terrorist attacks. It was in 2007 when  the African Union authorized the creation of the African Union Mission to Somalia. Since then AMISON has become an active, regional peacekeeping mission operated by the African Union with the approval of the United Nations to fight the threat of  al-Shabaab. By 2012, the UK-based Guardian published an article showing the link between Somalia's oil potential (given its proximity to East African oilfields) and military offensives to stop al-Shabaab. "Kenyan, Ethiopian and Ugandan soldiers are in Somalia," it reported, "fighting al-Shabaab, and each country has vested interests in Somalia's future. Already a new militia, led by the unlikely-sounding Sheik Atom, has formed around Puntland's oilfields."
In December, 2020 President Trump ordered the withdrawal of 700 US troops from Somalia which were training Somali forces to fight al Shabab. Trump's order drew some rebukes within Washington. Jim Langevin, the Democratic chair of the House subcommittee on intelligence and emerging threats, equated the withdrawal as "a surrender to al-Qaida and a gift to China."
And Benjamin Friedman, the policy director of the Defense Priorities think-tank, noted that "the change is not necessarily a step toward ending American military involvement in Somalia's civil war."
Benjamin Friedman, the policy director of the Defense Priorities thinktank, welcomed the move as a step in the right direction in reducing US exposure abroad.
"It seems to be a shift away from a broader effort to fight on behalf of the Somali government against al-Shabaab to a more focused counter-terrorism mission," Friedman said.
A report published this March by the Royal Institute of International Affairs, titled "Understanding US Policy in Somalia: Current Challenges and Future Options" confirms that since 2006, Washington's principal focus with regard to Somalia has been on reducing the threat posed by al-Shabaab.
"Successive US administrations have used military and political means to achieve this objective. Militarily, the US has provided training, equipment and funds to an African Union operation, lent bilateral support to Somalia's neighbours, helped build elements of the reconstituted Somali National Army (SNA), and conducted military operations, most frequently in the form of airstrikes. Politically, Washington has tried to enable the Federal Government of Somalia (FGS) to provide its own security, while implementing diplomatic, humanitarian and development efforts in parallel."
Brig. Gen. Matthew Gureme, chief of staff of Uganda's Rapid Deployment Capability Centre, told Foreign Policy on February 18, 2016 "This partnership really grew post-9/11. We were identified as one of the partners who had a common interest in combatting this terrorism," adding "If it wasn't for this partnership, I think the threat would be substantial enough that we would even feel it here at home."
The Ugandan military has been embroiled in conflicts in neighboring Democratic Republic of the Congo (DRC) and South Sudan. In the DRC, the Ugandans were accused of looting the country's natural resources, while in South Sudan they fought on behalf of President Salva Kiir in the country's civil war even after the United States called on them to withdraw. Also the Ugandan peacekeepers in Somalia have been accused of serious human rights violations, including sexual violence and torture.
According to Helen Epstein, an American author of Another Fine Mess: America, Uganda and the War on Terror, President Yoweri Museveni has been "… the region's pyromaniac since he came to power, whether we are talking about Sudan, South Sudan or Rwanda or the Democratic Republic of Congo, his army has intervened everywhere, to the detriment of peace."
Abdullahi Boru Halakhe, a security analyst who focuses on the Great Lakes and Horn of Africa regions, acknowledges that the Ugandan strongman has "put his army into the service of the global war on terror, thereby shielding himself from criticism."
The "African Renaissance": Uganda in a Historical/ Geopolitical Context
What has happened to Uganda is best understood by looking at the regional history of Sub-Saharan countries. In the 1980s and 1990s, these countries were disproportionately holding multiparty elections. During this period, the proxy wars of the U.S. and Soviet Union for domination of the continent, and the territorial ambitions of Apartheid South Africa had supposedly given way to a new generation of African leaders promising their western benefactors, including the US, that they would transform the continent. That dream was dubbed the African Renaissance, a contrast to the so-called "big man syndrome" – the autocratic rule by the so-called "big men" of African politics experienced during the first two decades after independence from colonialism.
For example, when former US president Bill Clinton made his initial African visit in March 1998, he helped popularize this notion of an African Renaissance, when he said he placed hope in a "new generation of African leaders" devoted to democracy and economic reforms.
Although Clinton did not pinpoint the African leaders he was referring to, it was widely assumed that he was referring to, among others, Museveni of Uganda, Paul Kagame of Rwanda, Meles Zenawi of Ethiopia and Isaias Afewerki of Eritrea. Other leaders added to the list included Ghana's Jerry Rawlings, Mozambique's Joaquim Chissano and South Africa's Thabo Mbeki.
In 1998 then U.S Secretary of State Madeleine Albright said: "Africa's best new leaders have brought a new spirit of hope and accomplishment to their countries, and that spirit is sweeping across the continent. They know the greatest authority any leader can claim is the consent of the governed. They are as diverse as the continent itself. But they share a common vision of empowerment–for all their citizens, for their nations, and for their continent."
Yet over the years, Museveni, for one, did not live up to such lofty democratic ideals. He has deliberately suppressed opposing voices, and the elections this year were just the latest example. Only this time, on January 30, 2021, even the US State Department issued its "significant concerns about Uganda's recent elections," in a statement emailed to The New York Times:"The United States has made clear that we would consider a range of targeted options, including the imposition of visa restrictions, for Ugandan individuals found to be responsible for election-related violence or undermining the democratic process."
Invariably, past condemnations of Uganda have come to be seen by Ugandan locals as loaded with levity, for nothing consequential ever emerges. An exemplar happened in 2014, when then-President Barack Obama censured the country's draconian anti-homosexuality act, warning the Ugandan President that "enacting this legislation will complicate our valued relationship." But a month later, Obama pledged 100 American troops to help Uganda's hunt for Joseph Kony, commander of the Lord's Resistance Army (LRA), a rebel group notorious for massacres of civilians and other atrocities.
In addition, on March 5, 2019, Museveni was accused of supporting rebels in the region – an allegation that would resurface time and time again during his long tenure. The Uganda ruler's incursion into neighboring countries is underlined by two key factors: an avaricious appetite for economic predation and a real feeling of trepidation that an insurrection could occur seeking to upend his forbidding reign, stirred by local rebels that are itinerant within the East and Central Africa regions.
For example, the UN stated in 2001 that the DRC was suffering a "systemic and systematic" looting of natural resources by foreign armies, which included the Uganda People's Defense Force (UPDF).
UPDF also had close ties with the Sudan People's Liberation Movement/Army (SPLM/A) under John Garang that witnessed UPDF invading this oil-rich state with the aim of fending off military support that the Sudan government, then a nemeses of the Administration of Garang, was providing to the Lord's Resistance Army (LRA).
In the late 1990s, Museveni's moral standing took a particularly hard hit when Uganda and Rwanda invaded the Democratic Republic of Congo  twice. Both armies were later charged in The Hague with looting the DRC's resources, killing and torturing civilians and using child soldiers.
But while Museveni has continued to curry favor with the West and still receives support from financial institutions, including the World Bank, his government has used their support only to undermine the very interests his government "is lauded for safeguarding," observed Michael Mutyaba, an independent researcher on Ugandan politics in a telephone interview with the writer, on April 1, 2021.
Here Mutyaba was alluding to Museveni's disproportionate use of monies received from western benefactors.
In short, Museveni's powerful benefactors have succeeded in helping him militarize the state, which in turn brutalizes its citizenry, making Uganda a police state that stands in sharp contrast to the US's much vaunted "African Renaissance."
Charles Wachira is a foreign correspondent based in Nairobi, Kenya and is formerly an East Africa correspondent with Bloomberg LP. He covers issues including human rights, business, politics and international relations.