Kenyan baobab trees uprooted for export to Georgia; critics call it 'biopiracy'
Georgia's former Prime Minister Bidzina Ivanishvili has built a dendrological park that is home to numerous species of giant trees from around the world, as well as exotic birds; now, several living baobab trees in Kenya's Kilifi region have been uprooted and prepared for export to the park in Georgia.
The plan to export baobab trees has sparked a public outcry in Kenya and accusations of biopiracy; some baobab species endemic to Madagascar are already endangered or critically endangered, and research shows that the type of baobabs that grow in Kenya face significant threats from climate change.
Local farmers in Kilifi reportedly were offered cash payments for the trees, which can help them meet their daily needs; while baobab fruits can be sold for use in snacks and other foods, the returns aren't as much as the farmers could earn by signing a contract to have the trees uprooted and moved.
KILIFI, Kenya — Between 2019 and 2022, during the construction of Kenya's first-ever expressway in the capital, Nairobi, thousands of trees were felled to pave way for the construction. However, one 100-year-old fig tree "refused" to give in to the pressure of development. Standing right in the way of the intended expressway, the tree was set to be uprooted and transplanted elsewhere. Environmental activists objected to this and fought for the survival of the towering fig tree, known locally as mugumo. Eventually, then-president Uhuru Kenyatta issued a decree to spare the tree, which is held sacred among the Agikuyu community.
Now, around 540 kilometers (336 miles) away in Kilifi, in the coastal part of Kenya, centuries-old gigantic baobab trees, equally revered by sections of the Mijikenda community, face a similar plight. Only this time, the trees' intended destination is thousands of miles away: the Shekvetili Dendrological Park in the country of Georgia. And this time, it's not infrastructural development leading to the move, but what could be a billionaire's whimsical hobby of collecting centuries-old gigantic trees.
An Oct. 24 article by The Guardian reported that farmers in Kilifi were having mature baobab trees uprooted from their farms and selling them for export to Georgia, a country in the Caucasus region situated between the Black Sea and the Caspian Sea. These reports were followed by posts online, including from ecologist and National Geographic explorer Paula Kahumbu, about the incident, sparking a public outcry. According to the article, George Gvasalia, a Georgian national, was responsible for the uprooting of the trees in different regions of Kilifi. This caught the attention of the Kenyan government, with President William Ruto calling for investigations to ascertain that the uprooting of the trees did not violate the Convention on Biodiversity (CBD) and the Nagoya Protocol.
Tree uprooted elsewhere in Georgia being transported to Shekvetili Dendrological Park. Image courtesy of Batumeli.The Convention on Biological Diversity is an international legal instrument designed to protect biodiversity and ecosystems through its pillars of conservation, sustainable use, and equitable sharing of benefits arising from genetic resources. It is a legally binding treaty ratified by 196 countries, including Kenya and Georgia. The Nagoya Protocol, on the other hand, is an agreement adopted in 2010 based on the CBD. It enshrines frameworks for equitable sharing of benefits arising from utilization of genetic resources.
Environment activists in Kilifi say they believe that the exportation of baobab trees from Kenya is in breach of these agreements. Weeks after President Ruto ordered a probe into the matter, the Ministry of Environment, through a directive to the Kenya Forest Service (KFS), reissued the license to export the trees stating that the trees were neither endangered nor protected and that all legal procedures had been followed.
Although the Kenyan government through KFS allowed for the exportation of the baobab trees noting that they are not endangered, research published in the journal Trees, Forests and People highlights that African baobab trees face significant climatic threats. Two species of baobab, Adansonia grandidieri and A. suarezensis are on the IUCN Red List as endangered, while A. perrieri is listed as critically endangered. All these are native to Madagascar. While these are different from the A. digitata species being exported, local environmentalists say they believe this species may well be on its way to becoming endangered as well.
Gvasalia, who, according to BBC World News, describes himself as an "ardent environmentalist," is at the receiving end of accusations of exploitation and biopiracy. Biopiracy is the unauthorized acquisition and utilization of biological resources by one party without fair compensation to the communities from where these resources were obtained. Local media reports in Kenya quoted him saying that he was only saving the trees since the locals were "killing the trees" by cutting them down for cultivation. As of publication, at least six of the uprooted trees were being stored at a yard near Bofa Beach and, according to press releases from the transportation company, were scheduled to be transported to Georgia by the end of June.
Mongabay reached out to Gvasalia via LinkedIn and this was his reply to our request for comments, before changing his account profile to private: "First of all you need to drive from Malindi airport [on the southeast Kenya coast] to Kilifi town and count recently destroyed/killed baobab trees by the Malindi highway. Only after that [can you] ask me questions regarding trees."
Another Georgian tree being transported by sea to Shekvetili. It's not infrastructural development leading to this, but what could be a billionaire's whimsical hobby of collecting centuries-old gigantic trees. Image courtesy of Salome Jashi.Others question the "saving the trees" idea. "The point is that you are taking a whole mature tree and ripping it out of the ground and then transporting it halfway across the world to replant it; I don't see that there can be any conservation justification for doing that," says Gus Le Breton, the board chairperson of the African Baobab Alliance, an association of companies and nonprofits that promotes the development of a sustainable baobab products industry in Africa.
According to Ina Mohammed, the secretary of Kilifi Climate Change and Governance Platform, an environmental group, the locals who entered into the agreement to sell baobab trees from their properties were exploited. Multiple sources Mongabay spoke to for this article said the locals were offered between 100,000 and 300,000 Kenyan shillings (between $719 and $2,158) for each tree.
"They are supposed to be paying more for each baobab tree, but then people are being given 100,000 [Kenyan shillings] so they don't want even to find out if it is the right amount or not the right amount; what they know is they just have to sell the baobab trees, and whatever they are going to be offered … they'll just accept it," Ina says.
Ina, who is also a volunteer with Voluntary Service Overseas (VSO), a global development charity, says she believes that the community was not made aware of the intended exportation and use of the uprooted baobab trees. She says that the exporters approached vulnerable property owners who had dire need of the money offered.
Uprooted trees in Kenya ready for transport. Farmers in Kilifi are having mature baobab trees uprooted from their farms and selling them for export to Georgia. Image by Calvin Rock Odhiambo/Mongabay.
Fast cash to cover daily needs
Some of the locals who entered into contracts to sell their trees, however, said in interviews with local media that they were grateful to Gvasalia for relieving them of the trees, which they did not have much use for, in exchange for cash in addition to the construction of five classrooms and a perimeter wall in a local primary school.
Our attempts to reach out to the sellers were futile, as our fixer stopped answering calls. However, John Otieno, an environmental science undergraduate student at Pwani University in Kilifi, says that having interacted with a farmer who sold three trees from their farm, he understands the farmer's position. Otieno, together with his colleagues at the Pwani University Environment Club, visited the farmer to get insights on why they had opted to sell their trees.
"He [the property owner] told us that in his farm, there are more than 20 baobabs … and the only benefit he gets from [the trees] is when the seeds are processed into mabuyu," snacks made from baobab seeds, Otieno says. "Aside from that, there is no other benefit they get from baobabs."
According to Otieno, in the farmer's view, the trees also made it hard to cultivate crops since they take up a lot of water from the soil. "He told us, 'If I was to sell this land, the value of this land will not get to 1 million shillings [$7,196], but here, just with three baobabs, I'm getting almost 1 million without selling the land; yet there are more baobabs in this land,'" Otieno says. "And you could see, they [the farmers] are very poor people, and this was like a silver lining to them — it was like a gold mine in the middle of nowhere for them."
Otieno says the community was well compensated since besides the money paid to the owners of the trees, the buyers built a school, paved a murram road where there had been none and planted trees to replace the baobabs taken away. He says that while it may not be proper to allow exportation of biodiversity, it is important to consider the resultant benefits to the owners and the community.
According to Otieno, while baobab trees have some economic benefit, the offer of fast cash addressed locals' immediate needs, such as school fees and food, more so than the intermittent returns from selling baobab fruits would have. Baobab fruits, known locally as ubuyu, have been touted as a superfood, rich in Vitamin C and antioxidants. The pulp is usually dried and ground into powder, which is used in smoothies and porridge as well as in beauty products.
A baobab in a sisal plantation in Kenya. Farmers say the trees make it hard to cultivate crops since they take up a lot of water from the soil. Image by Katja Kehlenbeck/ICRAF via Flickr (CC BY-NC-SA 2.0).Mohamed Almas is a community development expert and the youth senator for Kilifi County in the Youth Senate, an NGO that champions youth participation in political and governance processes. He says that Gvasalia's claim of saving the trees is far-fetched.
"There is a lot of deforestation going on in Kilifi … but baobab trees [are] not likely to be used for charcoal — that is one big reason why people cut down trees in Kilifi county. I have witnessed people cutting down the trees because they want space for construction," Mohamed says. "But witnessing people cutting down baobab trees massively — I am yet to experience that. And again, if that is the case, why would they choose to save the baobab tree and not any other tree? Why not save the mangrove, which produces the best charcoal and is used massively in construction?"
According to Global Forest Watch, Kilifi region had the third-highest tree cover loss over the last two decades. The rate of tree cover loss in Kilifi was noted to be nearly three times the national average. Kilifi has many varieties of trees, including wild kapok (Bombax rhodognaphalon), pod mahogany (Afzelia quanzensis), coconut palm (Cocos nucifera) and African fan palm (Borassus aethiopum) and Zebra wood (Brachystegia spiciformis), among others.
Some of the uprooted trees, stored at a yard near Bofa Beach in Kilifi, are supposed to be transported to Georgia by sea by the end of June. Image by Calvin Rock Odhiambo/Mongabay.
According to Global Forest Watch, Kilifi region had the third-highest tree cover loss over the last two decades. Image by Global Forest Watch.
An 'addiction' to giant trees
Although Gvasalia reportedly oversees the uprooting and exportation of the trees here in Kenya, Misha Sesiashvili, a journalist in Georgia who works for Mtavari TV, a media outlet in Georgia that has reported on tree transfers in Georgia, says that Gvasalia is acting on behalf of the billionaire former prime minister of Georgia, Bidzina Ivanishvili. According to Sesiashvili, Ivanishvili has an "addiction" to gigantic trees. The former prime minister, a self-confessed lover of gigantic trees, has in the past been behind similar incidents in Georgia where age-old trees were uprooted and transplanted in the Shekvetili Dendrological Park.
"These trees are transported to Ivanishvili's dendrological park," Sesiashvili says, "Ivanishvili lives on the Black Sea coastline in a lavish villa and what is called [the Shekvetili] dendrological park is actually his courtyard. Several years ago, he started uprooting gigantic trees from many different regions of Georgia and planting them in his backyard."
Shekvetili Dendrological Park is a 60-hectare (148-acre) botanical park that also hosts exotic birds. The park was opened to the public in 2020 and is free to access. Sesiashvili says the trees, transported to the park by sea or land on huge trucks or barges, were moved over distances of up to 70 km (43 mi) from where they were uprooted. He says that despite resigning from government in 2013, and from politics in general in 2021, Ivanishvili still wields significant political influence that enables him to operate with impunity. His clasp on political power is also echoed by a New York Times article headlined, "A Love of Trees or a Display of Power? The Odd Park of an Oligarch."
A source in Georgia, a journalist who requested anonymity due to the sensitive nature of her work, told Mongabay that Georgian villagers whose trees were uprooted for the park had been expressly told to not speak to journalists or risk termination of the contracts. She added that government funds were used in moving the trees, and in some cases, transnational electricity cables were disconnected to pave the way for transportation of the trees.
A section of the Shekvetili Dendrological Park, Georgia, where age-old trees from elsewhere have been uprooted and transplanted. Image courtesy of Salome Jashi.
In some of the villages in Georgia, trees had to be cut down to pave the roads by which the gigantic trees would be transported. Image courtesy of Salome Jashi.
Trees uprooted in Georgia
The dendrological park is also featured in a documentary titled "Taming the Garden" by the award-winning filmmaker Salomé Jashi. It documents the uprooting of trees in Georgian villages and the transfer to Shekvetili.
"When I first saw the image of the tree floating in the sea … where the first tree was taken, for me, it was a beautiful image, mesmerizing; an amazing image, and I felt like, 'Thank you for showing me this beauty!'" Jashi says. "But on the other hand, it was a very disturbing image and it spoke about power, it spoke about uprooting, migration; it spoke about loneliness, it spoke about masculinity — it had so many dimensions."
Jashi says a total of 200 trees were moved, and just like in Kenya, there were divided attitudes among locals over the uprooting and transferring of the trees.
"Some [owners] were really happy to get rid of their trees because the big trees would shade their mandarin plantations; but in quite some cases, the locals, either owners or neighbors or villagers, did express their sadness … because this tree was not just an ordinary tree for them, it was the beauty of the village usually; it was often a place where people would sit under, eat something together — which is kind of a communal activity — or drink beer maybe, or just talk or be at the shade or play," Jashi says.
Similarly, In Kilifi, locals often use baobab trees as meeting points and shelter from the hot temperatures that average 26 degrees Celsius (78.8 degrees Fahrenheit).
Jashi adds that there were complexities attached to the uprooting of the trees since, in return for the emotional trauma caused, the owners received financial compensation, which they needed desperately.
In 2019, Jashi filmed Gvasalia prospecting for baobab trees in Zanzibar to transport to Georgia. The plan later fell through under unclear circumstances. In one piece of Jashi's footage, Gvasalia can be seen surveying the area using a drone as he engages a local. He then says, "So it [baobab] can survive in Georgia very easily?"
In the 8-minute footage, Jashi also filmed a conversation between Gvasalia and Rashid Ali Juma, Zanzibar's minister for agriculture, natural resources, livestock and fisheries, in which Gvasalia expressed interest in transferring baobab trees to Georgia.
A scene from the documentary "Taming the Garden," which documents the uprooting of trees in Georgian villages and the transfer to Shekvetili. Image courtesy of Salome Jashi.
A hole remains in the ground where a tree was uprooted in Georgia. Image courtesy of Salome Jashi.
Part of Kenya's biological heritage
Le Breton of the Africa Baobab Alliance says that the expected long-term economic benefit of the trees is nothing compared with a one-off payment. He first got wind of the uprooting in September 2022, when he was contacted by stakeholders, and he in turn contacted a journalist with The Guardian.
"When I was initially contacted, the issue was that this export did not appear to have all the legal boxes ticked," Le Breton says. "The fact is, this is a tree that has grown up and survived through many different generations of humans, it has seen a lot of history, and fundamentally it is part of Kenya's biological heritage, and I think it is very sad that the Kenyan government would sanction its uprooting for the sake of a few dollars that would soon be spent."
A section of the Mijikenda community, which inhabits the coastal parts of Kenya, consider the baobab trees sacred and a vital part of their cultural heritage. The trees were used in the past by Mijikenda elders as shrines and places where traditional and spiritual oaths were administered. Some of the community members also believe that evil spirits inhabit the trunks of the trees.
Le Breton acknowledges that while the legal requirements for the exportation of the trees may have been met, he says it is not right to transfer the centuries-old trees because of the cultural significance to the community.
In a statement, following the president's directive for the matter to be investigated, Soipan Tuya, Kenya's cabinet secretary for environment, climate change and forestry, said, "The uprooting of the baobab trees needed adequate authorization and a clear and transparent benefit sharing formula for the community." She said these had not been obtained in this case, further noting that the trees are a natural heritage protected by the Constitution. It is not clear what changed with regards to these sentiments, allowing for the exportation. (As of publication, the Ministry of Environment, Climate Change and Forestry as well as the National Environment Management Authority have not responded to Mongabay's requests for comment.)
A baobab tree (Adansonia digitata) at the Haller Park in Bamburi, Mombasa. The tree is at least 39 years old. Image by Calvin Rock Odhiambo/Mongabay."I still believe this is utterly ridiculous because baobabs — the reason they only naturally occur in Sub-Saharan Africa is because they are ecologically adapted to the niche that Sub-Saharan Africa provides. Georgia, which is a subtropical [climate] country and prone to frost and even snow in the winter, is clearly not a suitable climate for baobab," Le Breton says. "I am pretty confident that what will happen at the end is all these trees that have been uprooted and shipped to Georgia will die."
In Georgia, Sesiashvili says, between 30 and 40 trees have been uprooted across the country but not all survived. In Kenya, according to KFS, the license issued to Gvasalia was for eight trees, although some locals in Kilifi claim that even more have been uprooted. Seshiashvili says he believes the reason for exporting eight trees is so that in case some die, others would survive.
Mongabay contacted the National Botanic Gardens of Glasnevin, in Dublin, Ireland, where an African baobab tree is grown in a glasshouse under controlled conditions. "Our baobab will never be able to achieve anything like the stature it would in its native habitat … but as a specimen in our collections, it hopefully helps our visitors connect with plant diversity and the need for its protection in all the countries of the world," Ita Patton, the foreperson of the glasshouse, says in an email. "Our success with cultivating this disparate collection [varieties of plants from different continents are grown in the garden] is due to the knowledgeable and attentive staff that can manipulate the application of water, ventilation and nutrition to counteract any adverse reactions to lower temperatures."
According to Le Breton, there is possible justification to take genetic material from one part of the world to another for conservation purposes. However, he asserts that this is only justifiable in the case when an organism is endangered, and even so, it would make sense to conserve the seed for reproduction, not the entire organism.
"We have seed banks … where many seeds of many different plants from around the world are stored, in case the wild plant ever went extinct and we would then have genetic material from which to reproduce it. And I believe there has been an element of that argument employed in this case in Georgia — that this is an endangered tree and it needs to be protected," Le Breton says. "But that is patently nonsense because first of all, it's not an endangered tree [species]."
Vendors serve food under the shade of a baobab tree. Image by Calvin Rock Odhiambo/Mongabay.
Mama Ngina Waterfront, a recreational park in Mombasa, has dozens of baobab trees that provide shade to visitors. Image by Calvin Rock Odhiambo/Mongabay.Sesiashvili says opinions are divided in Georgia about the importation of baobab trees from Kenya. While some think it is OK since people would not otherwise have a chance to see these trees, others think Ivanishvili's uprooting gigantic trees and transporting them over thousands of kilometers is a rather extravagant "hobby," and the money could have been put to better use. Sesiashvili says many Georgians consider it an extraordinary and a megalomaniac thing to do.
"Georgia is a poor country; we have a lot of social problems, a lot of poverty, even in villages where he uprooted these trees. So it is kind of unexplainable for these people to see that they live in poverty and somebody can spend 1 million or 2 million laris ($382,000-765,000) just to uproot one tree and plant in his backyard," Seshiashvili says.
There are still questions needing answers regarding the uprooting and exportation of the baobab trees. With Kenya's government agencies seemingly silent about the questions raised by activists and journalists, the questions will continue to linger. However, some stakeholders are worried that this may be setting a precedent that will eventually paint Kenya in a bad light. Yet, according to Le Breton, the solution may lie in shaming the parties involved and shaming the government into reconsidering the decision to allow for the "irregular" and probably "unethical" transfer of genetic resources.
Banner image: One of the uprooted trees in Georgia arriving at its new home in the Shekvetili, where the former prime minister has built a dendrological park with trees from around the world. Image courtesy of Salome Jashi.
Citation:
Asogwa, I. S., Ibrahim, A. N., & Agbaka, J. I. (2021). African baobab: Its role in enhancing nutrition, health, and the environment. Trees, Forests and People, 3, 100043. doi:10.1016/j.tfp.2020.100043
Fish kills leave Kenya's Lake Victoria farmers at a loss, seeking answers
According to a Kenyan government report, fish farmers in sections of Lake Victoria lost more than 900 million Kenyan shillings ($7.2 million) in massive fish kills in November 2022.
Scientists attribute the fish kills to reduced levels of dissolved oxygen likely due to a natural phenomenon called upwelling, which can be exacerbated by climate change and extreme weather.
Local farmers who lost their fish, however, attribute the die-offs to pollution from Lake Victoria industries, which agencies have accused of discharging untreated effluent into the lake in recent years.
KISUMU, Kenya — It is a little past 5 p.m. at the lakeside city of Kisumu, in the western part of Kenya. An hour later, the sun sets over the sprawling Lake Victoria as far as the eye can see. Wisps of gray clouds are infused with the sun's amber rays, which reflect off the lake in a bedazzling shimmer. The scene is captivating, but a faint stench lingers in the air. That stench, to many cage fish farmers, is a painful reminder of the extensive losses they suffered in November 2022 due to fish kills.
A report commissioned by Kenya's State Department for Fisheries, Aquaculture and the Blue Economy estimates that cage farmers in different sections of Lake Victoria, particularly Kisumu and Homa Bay towns, lost more than 900 million shillings ($7.2 million) to fish kills in 2022. While the scientists Mongabay speaks to attribute the fish kills to a combination of natural phenomena and climate change, the fish farmers are wary of those explanations, saying the deaths could be a result of pollution.
Fish farmers in Lake Victoria mainly stock tilapia (Oreochromis niloticus), which, according to scientists, are preferred due to their fast growth, resistance to disease and ability to withstand low dissolved oxygen levels. Tilapia and Nile perch (Lates niloticus) are the two most abundant fish species in the lake, and tilapia is more profitable in the local market.
Two of the fish farms, Kentila Farms and Lake Aqua Limited, suffered the greatest losses: 200.4 million shillings ($1.6 million) and 138 million shillings ($1.1 million), respectively, according to the government report. Although the fish kills happened in November, the memories of the losses are still fresh in people's minds months later.
At Ogal Beach, the section of the lake where farmers were worst hit, there is a flurry of activity as fishers return from early morning fishing expeditions. They are gradually easing back into their routines. It is not until you engage the fishers that you begin to understand the hurt some of them bear beneath the apparent normalcy.
"I do not want to talk to the media anymore. … Nothing comes out of it! It is like opening an old wound that I would rather forget," says Jacob Okomo, a fish farmer at Ogal Beach who deals in tilapia. It is unclear how much loss he suffered, since he does not talk about what happened.
Shalton Omolo's assistant rowing Omolo's boat. Most fish farmers in Kisumu use similar boats. Image by Calvin Rock Odhiambo for Mongabay.
Low levels of dissolved oxygen can kill fish
Many of the fish farmers lost their fish to massive die-offs usually attributed to reduced levels of dissolved oxygen (DO) in water — a phenomenon that commonly results in what is referred to as fish kills.
According to a review article published in the journal Fisheries Management and Ecology, Lake Victoria fish kills in recent years have been attributed to reduced dissolved oxygen content in the water. The article, which references incidents in 2016 at two other beaches on the lake — Anyanga and Nyenye-Got — notes a number of reasons for reduction in oxygen levels, including poor water circulation in the cages due to algae and feed residues as well as possible upwelling around the cages.
"Upwelling [occurs] when the water at the bottom [of the lake] rises, and the water at the bottom of the lake or sea is usually low in oxygen," says Chrispine Nyamweya, a researcher at the Kenya Marine and Fisheries Research Institute (KMFRI). Nyamweya, who specializes in limnology (the study of inland aquatic ecosystems), explains that processes like decomposition, which uses oxygen, cause deficiency in the bottom column of water, which rises to the top during upwelling.
"When there is wind action or changes in water temperature, which changes the densities, water from the bottom rises up to the surface in the process … killing fish because of suffocation," Nyamweya says. "Upwelling occurs at predictable times of the year but sometimes because of climate change and extreme weather conditions, these events happen at places and times we don't expect."
A fisher repairs his fishing net at Achodho Beach in Kisumu County. Image by Calvin Rock Odhiambo for Mongabay.About half a kilometer across from Ogal Beach is Achuodho Beach. Shalton Omolo, a cage farmer who deals in tilapia, says he lost more than 4 million shillings ($32,000) to fish kills in November. He started ELSO farms in 2019; using proceeds from aquaculture, he invested in beekeeping and goat rearing, selling honey and goat meat to boost his income. Unlike Okomo, he is willing to talk about his experience of discovering dead fish in their cages. He speaks with passion, recalling the Friday it happened.
"We woke up very early, prepared to harvest because we had a lot of orders and clients were waiting for us in town and some were waiting for us at the beach," Omolo says. "When we were about to arrive at the farm [fish cages] we were met by some funny smell, but we assumed everything was OK."
Upon arrival, Omolo says, he and his assistants found thousands of fish floating in the water inside the cages. He was forced to call his customers, mostly hoteliers, informing them of what had happened. He had no option but to refund the money some of them had already paid.
"At first I thought it was foul play; I thought it was a human act because I had advertised and people [customers] were really waiting on their orders. I thought somebody might have poisoned the fish," Omolo says. "I mostly deal with hotels and Fridays are good days because we are heading to the weekend so sales are really good and hotels want their fish supplied as early as possible — latest 7 a.m."
Omolo says he later found out that other fish farmers in other areas of the lake had also been affected. He then realized the fish could have died from natural causes, although he remains skeptical.
Shalton Omolo steering his boat offshore. Image by Calvin Rock Odhiambo for Mongabay.Things have not been easy for Omolo, who has two school-going children and siblings who depend on him. Even though he is slowly getting back on his feet, he says he is still burdened by the uncertainty of what the future holds.
"By the time I lost my fish, all the fish were ready for harvest and I had 80,000 pieces of fish [individual fish]. The total stock was amounting to 3 million shillings ($23,000); when the government did their calculation it was amounting to 4.6 million (just over $35,000) because of other factors left out during my calculation," he says.
The cost of constructing a cage of 6-by-6-by-4 meters (20-by-20-by-13 feet) is about 400,000 shillings ($3,000), Omolo says, without factoring in the cost of fish fingerlings, which cost 4 shillings ($0.03) each. He also fed  the fish twice daily at a cost of 100,000 ($800) shillings per cage, until the fish were ready for market. At the time he lost the fish, he had 12 cages.
Ironically, aquaculture was introduced to Lake Victoria as a lucrative alternative to fish hunting while also solving the problem of dwindling fish volumes in the lake. However, with the losses farmers incurred, many are wondering whether it is worth the investment.
A report published in the International Journal of Fisheries and Aquatic Studies, which focuses on fish kills in Lake Naivasha in February 2010, notes that suffocation as a result of oxygen depletion is "often" the cause of fish kills. Further, the report highlights "natural causes" such as "climatic conditions that can lead to deoxygenation of the water, diseases, stress, toxic algae, thermal shock and salinity shock among other factors."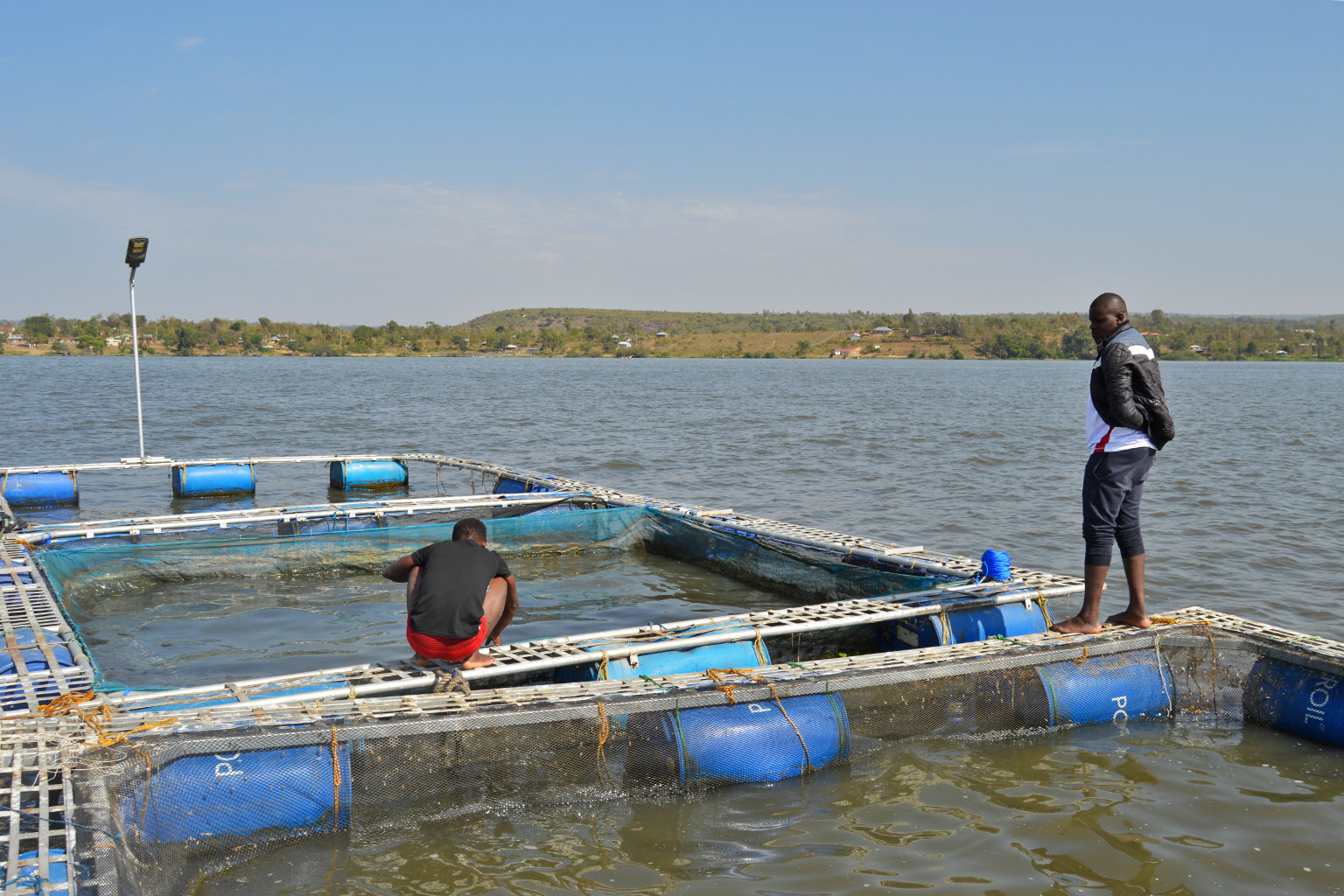 Omolo's assistant and Omolo inspecting the fish nets. Image by Calvin Rock Odhiambo for Mongabay.Omolo, however, suspects there could be more to the fish kills than just "natural cause," which, he says with skepticism, the scientists from KMFRI refer to as "an act of God."
"Everybody knows what happened. Things like 'natural phenomena,' things like 'upwelling,' people are just trying to hang onto them — those are jargons to me but we know very well what really affected the lake and what is killing the fish," Omolo says. "What is happening is: We are losing our fish due to the pollution in the lake."
He points a finger at companies around the Lake Victoria Basin accused of discharging effluents into the lake. His sentiments are echoed by Okomo and Michael Nyaguti, an environmentalist based in Kisumu, both of whom blame the die-offs on pollution. According to them, a discoloration on some sections of the lake is clear evidence of pollution. Nyaguti describes the color as that of "strong [black] tea."
In 2020, Chris Kiptoo, who was then principal secretary of environment and forestry, singled out institutions and industries complicit in polluting Lake Victoria to Kenya's environment watchdog, the National Environment Management Authority (NEMA), saying that 102 companies from 14 counties were responsible. In March 2022, NEMA said it would shut down 13 facilities for discharging untreated effluent into the water. As of publication, NEMA has not responded to Mongabay's request for comment and an update on the situation.
Nevertheless, Susan Adhiambo, the Kisumu County director of fisheries, is quick to dispute  the allegations that the November fish kills were caused by extensive pollution.
"If it was pollution, it would have happened in the whole lake. … These deaths were sporadic at specific points, and there is no evidence that there is pollution taking place at those points. So I cannot clearly say it was pollution without sound evidence to prove [it]."
Susan Adhiambo, the Kisumu County director of fisheries. Image by Calvin Rock Odhiambo for Mongabay.
Fishermen gathering their catch early in the morning on Lake Victoria. An industrial unit at the lake's banks can be seen in the background. Image by Franklin Amulyoto via Wikimedia Commons (CC BY-SA 4.0).She backs upwelling as the cause of the fish kills as indicated by researchers and scientists from the government. "[Upwelling] can be predictable, but with climate change, there are so many changes … even temperature patterns are changing, so it is becoming unpredictable," Adhiambo says.
She adds that not all regions of the lake are suitable for cage farming, and that overcrowding the lake with fish cages may contribute to pollution.
Like Adhiambo, Nyamweya says the fish cages were most likely set up in areas unsuitable for fish farming, and that could have been the greatest contributor to the fish kills. He says that while pollution may also cause reduced levels of oxygen in the lake, it is unlikely that it was the cause of the November 2022 fish kills as many more fish farms across the lake would have been affected.
"I can say for certain that these fish kills were as a result of overcrowding and being set up in unsuitable areas."
Despite Nyamweya and Adhiambo's stand, Nyaguti, who is the founder of Magnam Environmental Network, a pro-conservation community-based organization, says pollution is largely to blame.
Shalton shares a light moment with Michael Nyaguti. Nyaguti runs a pro-conservation CBO called Magnum Environment Network. Image by Calvin Rock Odhiambo for Mongabay."[T]hey were saying it is because of climate change issues and therefore they could not control it," Nyaguti says, "but we still call for more research because much as we have water hyacinth rotting … we are aware that a lot of pollutants are still entering into the lake."
At the moment, scientists can only present the most likely causes of the fish kills. It could have been a combination of many things, including drought, which, according to the report in the International Journal of Fisheries and Aquatic Studies, also causes fish kills.
Nonetheless, fish farmers like Omolo and Okomo have suffered massive losses. Their hope is that the Kisumu county government, together with the national government, will implement the recommendations proposed by a task force investigating the fish kills — particularly, offering financial and psychosocial support to the affected farmers. Yet, more importantly, they say, scientists should conduct more research and come up with ways to prevent fish kills in the future — for this remains their greatest fear.
Drying wetlands and drought threaten water supplies in Kenya's Kiambu County
Prolonged drought in Kenya has caused a water crisis, threatening local livelihoods and biodiversity; one of the badly affected areas is Kiambu County, a region normally known for its high agricultural productivity.
Human activities such as dumping, encroachment and overgrazing coupled with dire effects of climate change exacerbate the degradation of wetlands, worsening the water crisis.
Scientists say that conservation efforts must center around local communities to ensure the restoration of natural resources and combat the impacts of climate change.
LIMURU, Kenya — Kiambu County in Kenya is facing a major water scarcity crisis that is threatening not only people's livelihoods but also biodiversity. Rivers and wetlands that were once roaring with life are now dry and barren. With prolonged drought worsening the situation, residents are worried about the long-term implications and the drastic decrease in water supply over the last few years. Of particular concern is the Manguo swamp, a wetland that is not only a source of water for the community but also a rich harbor for biodiversity, which has, for the first time since the residents can remember, totally dried up.
Kiambu county, located in central Kenya, is the second most populous county in the country. It is located north of the capital, Nairobi, and is known for its lush greenery and rich fertile lands famous for Irish potatoes, cabbages, pears and other horticultural crops, supplying a large extent of Nairobi's food needs.
Many residents are worried about news of drying rivers and boreholes, drilled by homeowners and the government to locate water, plus a looming local water crisis.
The Manguo swamp — or what used to be — sits near Limuru town, about 40 kilometers (25 miles) from Nairobi. Along the Nairobi-Nakuru highway, at the junction with Kiambu Road, is a barren depression about seven football fields long and four football fields across. Herders and their flocks of sheep are scattered across the desert-like depression, with only countable patches of green grass remaining. One of the herders is 65-year old James Njuguna, who was born and raised here.
"This is the Manguo swamp you've heard about," says Njuguna. "It is now totally dry!"
The Manguo swamp a few years ago. Image courtesy of Jane Macharia.
The Manguo swamp now is a desert-like depression, with only countable patches of green grass remaining. Image by Calvin Rock Odhiambo/Mongabay.Online images of Manguo swamp from 2017 depict a picturesque marshy wetland harboring ducks, herons, crested cranes and a variety of other birds and wildlife. Now, the water and vegetation are gone, with hardly any birds or wildlife in sight. Manguo swamp was a 30-hectare (74-acre) wetland, but what is left of it is a water-starved area with dusty footpaths criss-crossing through it.
"I have lived here for 65 years and never have I ever witnessed Manguo [swamp] this dry. During droughts, the swamp dries up but the center usually retains some water," Njuguna says.
Ironically, during some rainy seasons — particularly during the long rains between April and June — the swamp floods, forcing residents to dig outlet channels. At full capacity, water rises to a depth of about 6 feet. "During rainy seasons, it is impossible to get in here. We would be submerged in the water now," Njuguna says. According to him, the swamp has never been passable before. But now, cracks on the dry floor are the only evidence that it once had water.
Njuguna's family used to rely on water from the swamp for domestic and livestock purposes, but that changed 25 years ago when they got access to tapped water. According to him, many local residents cannot afford to install piped water supplied by the government-run Limuru Water and Sewerage Co. Ltd. Nonetheless, he says, the water bills are higher now since he has to give the tapped water to his more than 100 sheep, which previously would drink from Manguo swamp. Normally, he and his family use 6 cubic meters (about 1,600 gallons) of water per month at a cost of 480 shillings ($3.7), but now he pays at least five times this. He says this has substantially affected his income from selling sheep. Njuguna tells Mongabay that many residents of Limuru in Kiambu county depend on water from boreholes, many of which are also drying up.
Satellite images of the Manguo swamp in 2017 and 2022. Images by Google Earth.
A 2011 study, published in the journal Biodiversity, focused on the management of highland wetlands in Kenya, using Manguo and Ondiri swamps as case studies. According to the study, human activities such as dumping of solid waste, encroachment, agriculture, overexploitation and overgrazing were listed as major threats to the wetlands. Jane Macharia, a research scientist at the National Museums of Kenya and lead author of the study, says these problems have persisted and have been made worse by climate change. Kenya is currently witnessing a drought reported to be the worst in 40 years, leaving a number of the country's wetlands dry. Lake Ol Bolossat is one such wetland that, like Manguo, has dried up.
"While it is surprising [the drying of Manguo swamp], it is something that cuts across the country," Macharia says. With the long rains through June, she says, "most rivers and wetlands will recover, but I think that should not be comforting; we have to take steps towards measures to restore our [water] catchment areas."
But, according to her, local communities can lack trust in conservationists, and are thus reluctant to support efforts to conserve wetlands. Most conservation projects, being donor-funded and periodic, can lead local communities to doubt their legitimacy when they end without a clear long-term solution. Nevertheless, Macharia says, she believes conservation initiatives that include genuine partnership with community members, communication, education, public participation and awareness will be successful.
"If you are made to know the need to do something, you will do it freely. You will engage in good practices freely," she says.
Black-headed ibises (Threskiornis melanocephalus) at a grassy section of Manguo wetland in 2009. The swamp is a rich harbor for biodiversity, including a variety of bird species. Image courtesy of Jane Macharia.
The dry earth in Manguo swamp now. Image by Calvin Rock Odhiambo/Mongabay.Meanwhile, Njuguna may be feeling the pangs of water scarcity, but George Karanja, a youthful man who approaches us as we speak, is worse off. Karanja listens for a few moments before jumping into the conversation.
"When there is no water in the house, I don't think you can stay in that house," Karanja says, "especially with a wife and kids — the house is uninhabitable without water!" He goes on to list all the things they need water for, from sanitation to food preparation. After a short conversation, he offers to take us around the village to different water points and eventually to his home, 5 km (3.1 mi) from Manguo.
On the way to Karanja's place, we make two stops: Bibirioni water station and Peter Mwangi's home. Bibirioni is a privately owned water company that usually supplies water to the majority of Nyambare village residents, but when we visit, it is deserted with no sign of activity. Two steel pipes extend from one wall of a structure of about 3 meters by 2 meters (10 feet by 6.5 feet) with six plastic tanks at the top. The pipes lay dormant, their walls and surface parched and caked by dust, apparently untouched by the soft trickle of water they once carried. (As of publication, the manager of Bibirioni water company has not responded to Mongabay's requests for comment.)
"This station hasn't pumped water now for over six months," Karanja says.
George Karanja with his children and a neighbor's child. Image by Calvin Rock Odhiambo/Mongabay.
Bibirioni, a privately owned water company that usually supplies water to the majority of Nyambare village residents, is deserted with no sign of activity. Image by Calvin Rock Odhiambo/Mongabay.The only other place Karanja's family and many of the residents can get water is at Peter Mwangi's home. Peter is among the few people in the village to have piped water supplied by Limuru water company installed at his home. Six women surround a tap while seated on water containers. Among them is Josephine Nduta, Karanja's wife. Water trickles from the tap and the women engage in animated talk as they wait for their containers to fill.
"We have had water problems before, but this time it is worse than ever," Nduta says. "Sometimes I wait almost the whole day to fetch water, but I have to wait anyway because I cannot go back without water."
With the slow flow of water, it takes 15 minutes to fill one 20-liter (5-gallon) container. Nduta has four and has to wait at least four hours before she can fetch, since four women are ahead of her, each with four containers to fill. The water flow is not usually this slow but today it is exacerbated by a power outage.
"Every week we only get water twice, on Tuesdays and Fridays," Nduta says. "Sometimes there is water only one day a week." Nduta says things have become hard for her family since she spends hours at the water point, time which she could have otherwise spent working. Both she and her husband, Njuguna, depend on contractual day labor for income. Moreover, she says, some water vendors take advantage of the situation and charge more. "We normally buy a 20-liter container of water at 5 shillings [$0.04] but now we have to pay double that," she says.
Every woman at the water point had at least four containers. Nduta had to wait over four hours for her turn to fetch water. Image by Calvin Rock Odhiambo/Mongabay.Given the water shortage, the county-run Limuru water company has no option but to ration water. This has made a dire situation worse since only a handful of people can afford to install piped water, which costs 4,500 shillings [$34] without plumbing costs. This is beyond reach for many people, given the unemployment rate in Kiambu county is 17%, according to the county website. Most of the employed work in farms, industries and quarry sites, while others like Njuguna are subsistence farmers.
"This [water crisis] is a result of long-term human impact on [the] environment. … Natural phenomena [are] accelerated by human activity, then we have such phenomena like what we are having today of long and severe drought," says David Kuria, Kiambu County Executive Committee member in charge of water, environment and natural resources. "We [humans] have turned some areas into concrete jungles," he says. "Human population has really increased, and therefore, the need for houses; and when you have more houses, they alter the ecosystem; and therefore, when you alter the ecosystem, you affect climate and you affect nature."
According to him, excessive air pollution, deforestation, encroachment on riparian land and pollution of water sources have accelerated climate change and worsened the effects of drought. The drought and subsequent water rationing have affected many residents of Kiambu, forcing them to go to far-flung places in search of water or pay more to get water, he says.
The primary source of water for Kiambu county is rivers originating from the southern Aberdare Forest, most of which, Kuria says, have dried. In February 2023, more than 40,000 acres of the Aberdare Forest was destroyed by wildfire, further posing serious environmental threats. According to Kuria, the situation is worrying and he says only the rains could make things better.
The Karanja children play as their mother waits for her turn to fetch water. Image by Calvin Rock Odhiambo/Mongabay.With the onset of the long-rains season, the Kenya Meteorological Department forecasts that much of the country is likely to receive near-average rainfall. But this comes on the heels of the sixth consecutive failed rainy season in the Horn of Africa and many parts of Kenya, and it's unclear how this season will affect the long-term health of the country's waterways.
On March 22, Kenya joined the world in celebrating the U.N.-designated World Water Day, but with little to celebrate given the extended water crisis in parts of the country.
"As a government, we are rationing water and encouraging people to share the available water and also use water sparingly in a sustainable way," says Kuria. He asserts that conservation measures, including securing water sources and planting trees, could help alleviate the water crisis in the long term. Moreover, innovative methods of water harvesting, such as retention dams, which store water over long periods, would help in ensuring water security during dry seasons.
Macharia echoes Kuria's sentiments, explaining that the effects of drought are a result of human activities contributing to climate change. As a solution, she emphasizes creating awareness about conservation efforts among local communities, since the benefits of natural resources to them and the ecosystem are not always clear. She supports sustainable agriculture practices, which involve cultivating away from wetlands to avoid siltation, which makes the wetlands shallow and prone to drying up.
Human beings must be at the center of restoration efforts, she says, quoting the late Kenyan nobel laureate and conservationist Wangari Maathai: Nature is "unforgiving."
In Kenya, green parties struggle for votes
Despite a young population concerned about climate change, the green agenda was once again a fringe issue in Kenya's general election\
n August, Kenya held its fifth general elections since the introduction of multiparty politics in 1991. Four of the 93 registered political parties were green parties. That is a lot for Africa, which only has 22 official green parties. Yet despite a young population highly concerned with climate change, none of Kenya's green candidates were elected on their ticket.
Kenya faces myriad environmental challenges, not least the multi-year drought in the northwest linked to climate change. The country has a strong history of involvement with global environmental movements, both grassroots and institutional. Forty-five years ago, Africa's first female Nobel Prize winner, Wangari Maathai, launched the Green Belt Movement, calling on women to plant trees and nurture their local environment. It became a force for women's rights in Africa and for holding Kenya's President Daniel Arap Moi to account. Nairobi is also home to the UN Environment Programme, founded in 1972, and the dozens of environmental think tanks and research bodies that cluster around it.
With this history, why do Kenya's green parties remain on the fringes?
Climate change not a priority for voters
According to Gloria Michira, secretary for environment for the United Green Movement Kenya, green parties lack impact in the country's electoral process because voting tends to be based "on tribe and personal interests" rather than "tangible issues such as climate change and environmental degradation".
Kenya has an estimated 42 ethnic groups. With the delineation of county boundaries within Kenya leaning towards balkanization, ethnonationalism tends to define how votes are cast. Since independence in 1963, the country has had five presidents. Three, including the outgoing Uhuru Kenyatta, are from the Kikuyu tribe, which comprises 17% of the population, more than any other. The remaining two, including presently sworn-in William Ruto, are from the Kalenjin community, the third largest in the country.
When we discuss issues related to matters touching on climate change, for example, people view it as a utopian preoccupation
Isaac Kalua, founder and chair of the Green Thinking Action Party
Electioneering in Kenya tends to focus on local issues, explains Professor Izael Pereira Da Silva, deputy vice-chancellor of research and innovation at Nairobi's Strathmore University Business School, and board member of the Kenya Climate and Innovation Centre. "Within the local political ecosystem, candidates choose to singularly focus on the basic issues such as garbage collection and dumpsite management, and avoid discussing weighty matters that touch on the green agenda," he tells China Dialogue.
Isaac Kalua, founder and chair of the Green Thinking Action Party – one of Kenya's four green parties – echoes this view. Issues like health, work, education and safety are of more interest to the average Kenyan voter, Kalua tells China Dialogue. "So, when we discuss issues related to matters touching on climate change, for example, people view it as a utopian preoccupation."
Green parties remain on the fringes of electoral politics in almost all African democracies. The only major breakthrough for a green party on the continent was Rwanda's Democratic Green Party which won two seats in the 2018 general election. It was the first time any opposition candidates had won seats in Rwanda's parliament.
Kenyan youth disillusioned with politics
In contrast to the population as a whole, Kenya's young people are highly concerned about climate change. According to a survey published by the Ichikowitz Family Foundation in June 2022, 94% of 18 to 24 year old Kenyans believe their government should be doing more to adopt green energy; 88% expressed concern that climate change could worsen crop infestation and destruction; and 85% stated that they are "actively working to reduce their carbon footprint". This concern is present in young people across the continent. The Ichikowitz Family Foundation survey showed that 70% of Africa's youth are concerned about climate change, while less than half are satisfied with how their leaders are tackling the issue.
Just under 30% of Kenya's population are aged between 18 and 34, according to the 2019 national census. As a demographic, these 13.8 million people are one of the least likely to vote. The numbers of registered voters in this group reportedly fell by 5% compared to 2017.
The relatively low turnout of young Kenyan voters may stem from disillusionment with politics more broadly. A 2020 study of their attitudes towards politics and the country's future found corruption and unemployment topping their concerns. At least a third of Kenya's youth who are eligible to work are jobless.
'We were expecting six million new registered voters but only three million turned up'
Hilda Muthoni, 32, is a dentist in lower Kabete, a verdant locale 12km west of Nairobi's central business district. She tells China Dialogue that she didn't vote this year because doing so would not improve her living standard. "It's apparent that thieves are given a free pass to run for public office," she said. "One would not expect change that we are looking for to happen if those are the choices on the ballot."
Jakaya Kikwete, former president of Tanzania who led an observer mission during the 9 August elections, recently told media that the low turnout was worrying for Kenya whose electoral processes were largely transparent compared with other African countries.
"We were concerned about the low registration of younger voters. We were expecting six million new registered voters but only three million turned up. Probably there are concerns among the youth that participating in elections is not worthwhile," the East African weekly newspaper reported Kikwete as saying.
Hope for a greener political future?
Agostino Neto, a parliamentary candidate for the United Green Movement Party in the August polls, is more optimistic.
"The future of green parties in Kenya is bright if the economic momentum stirring Kenya to becoming an upper middle income economy by 2030 is maintained," he tells China Dialogue. "A sizable middle class will gradually come of age whose worries will transcend matters coalescing around hand-to-mouth affairs, engaging instead on tangible issues fixated on, say, climate change."
The economy is indeed growing strongly, but inequality remains a major issue. According to Oxfam, Kenya is one of the world's most unequal economies with less than 0.1% of the population – that is 8,300 people – owning more wealth than the bottom 99.9% – equivalent to 44 million people.
Martin Ogindo of the Green Congress of Kenya says significant progress has been made towards the goals of green parties despite the parties themselves not assuming power. Successive governments since the 1990s have been sensitive to environmental matters, Ogindo points out.
Indeed, Uhuru Kenyatta's outgoing administration achieved major milestones in the clean energy sector, with renewable sources now accounting for 80% of total power-generation capacity. A signature legacy of the Kenyatta administration also includes the Lake Turkana Wind Power Project, the largest biggest wind power plant in sub-Saharan Africa. Looking ahead, the country is targeting 100% clean energy use by 2030, and 100% access to clean cooking technology by 2028.
But until green parties in Kenya discover ways to connect with the average voter over their green agenda, the prospects for a greener future for the country will remain narrowly defined.